HAWAIIAN CARPET ONE FLOOR & HOME
Hawaiian Carpet One Floor & Home in Kahului, Hawaii is proud to support their island community. They recently donated $55,000 to the local Feed My Sheep program which provides groceries to neighborhoods in need. In addition to nourishment, Feed My Sheep also provided emotional support to families in need.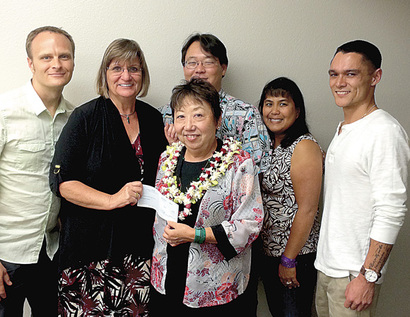 Photo - Lahaina News. From left, Feed My Sheep Operations Director Scott Hopkinson and CEO Joyce Kawakami accept the check from Susan Hiramatsu, Hawaiian Ceramic Tile manager; Corey Egami, Hawaiian Carpet One manager; Wanda Barbosa, office manager; and Kekoa Kawakami of Hawaiian Ceramic Tile.
Each month, Feed My Sheep provides approximately 69,000 half-pound meals. They provide food to 3,400 people including working but poor families, seniors on fixed incomes and homeless men and women.
This recent donation is just another way that Hawaiian Carpet One Floor & Home is working towards their mission - "Covering Surfaces with Aloha, we Honor our Customers, Respect One Another, and Serve our Community."
Established in 1980, Hawaiian Carpet One Floor & Home and Hawaiian Ceramic Tile has been serving Maui families and businesses. They have helped transform over 17,000 homes and businesses on Maui over the past 33+ years. They specialize in all types of floor coverings: Carpet, Vinyl, LVT, Ceramic, Porcelain, Natural Stone, Laminate, Hardwood, Bamboo, Glass tiles, and setting materials. They also carry DeWils custom cabinetry, Hunter Douglas window fashions and Hometech Bidet systems.