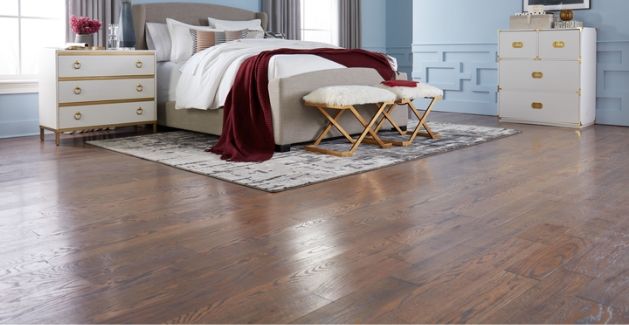 Is Walnut a Good Choice for Flooring?
When it comes to tone and color, walnut hardwood is a unique flooring option available, and it is a charming addition to any home. Walnut hardwood isn't just for flooring; however – furniture, décor, woodwork, and decking are common uses for walnut hardwood, primarily because of its impressive durability. Walnut trees grow in the Eastern United States and are less abundant than other species of hardwood. Walnut trees grow higher than fifty feet tall and can have an extremely wide diameter.
Walnut Hardwood Grain
The walnut hardwood species generally has a straight grain, with some irregular graining naturally occurring. The lines of the grain in walnut can be parallel to the direction of the tree growth or random and erratic, with few knots. The straight and sometimes irregular grain makes walnut hardwood floors one-of-a-kind.
What does Walnut Flooring Look Like?
There are two main colors of walnut, depending on where the wood comes from, with both having a bit of purple tone. Sapwood, which is the outer layer closest to the bark of the tree, is white and gray. The heartwood of walnut, on the other hand, varies in color from light to rich, dark brown. Because walnut has deep browns, light stains don't show up as well as darker stains. Unlike other hardwoods, walnut lightens in color over time, which can be a crucial factor when choosing stain color.
Is Walnut Flooring Durable?
While walnut is one of the lower rated hardwoods for hardness in comparison to other flooring options, it still performs well in specific applications. With the medium texture of walnut, a matte finish is the best way to reduce the look of scratches or scuffs if they do occur. Plus, thanks to its natural darkness, walnut floors can also hide dents.