Kitchen Floor Ideas for Your Home
Designing a kitchen is a special task in your home: It's the place inside that brings warmth and great memories of special meals that mark holidays and meaningful moments. An inspired culinary space will produce delicious results, with color schemes just as rich as the flavors created through the years. Just like a savory broth or fully developed sauce is the foundation to delicious food, the perfect floor will help create an atmosphere of constant smiles. Different kitchen flooring materials will produce different feels- and also lend different performance attributes.
Flooring Ideas for Living Room and Kitchen
While there are many flooring options that work for kitchens, open concept kitchen and living room setups can require a unique approach. For example, carpet is ideal in living rooms, but because of the amount of moisture and the likelihood of accidents in the kitchen, it's not recommended for open concept living room and kitchen combos. However, water-resistant luxury vinyl and waterproof vinyl, as well as water-resistant hardwood like Hydrotek™ are both great options. Tile is another hard-surface living room and kitchen flooring that will suit nearly any space, thanks to its ability to resist water, scuffs, and stains.
These kitchen floor ideas are surefire recipes for completely satisfying results: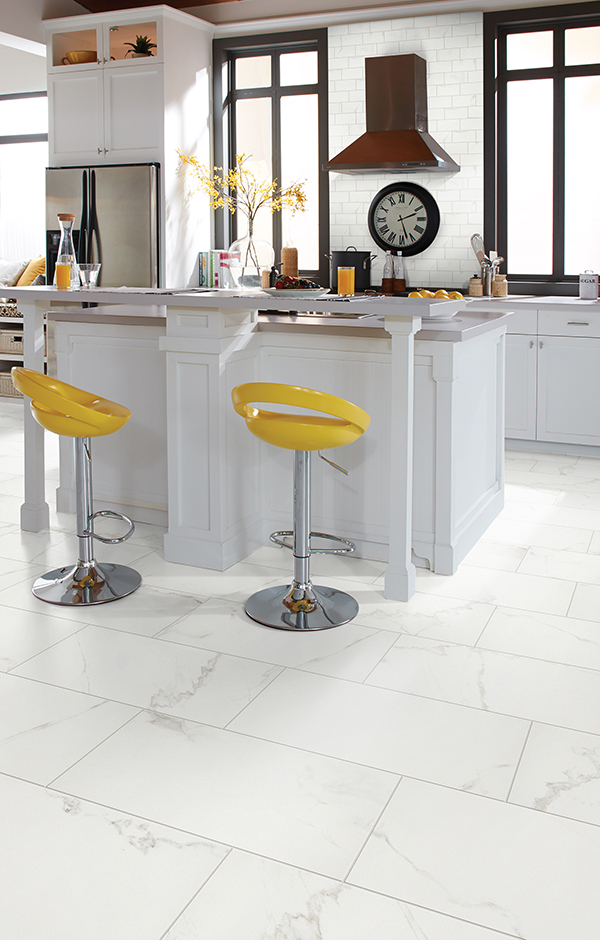 Tile Kitchen Flooring Ideas
Ceramic tile is timeless and allows you create a completely unique kitchen space. You can literally use tile to design a kitchen that gives you a sleek, retro, modern, chic or one-of-a-kind feel. Not only is tile water resistant, easy-to-clean and durable, it's a great kitchen floor option as far as pattern and color is concerned. In addition to kitchen floor tiles, you can coordinate with your counters, walls and backsplashes to create an unforgettable room. So if you thought of tile as only small squares, think again: Today's tile options like Bel Terra come in large planks with wide widths and longer lengths for even more design capability. Pro tip: Keep your grout lines as small as you can to making cleaning more effective.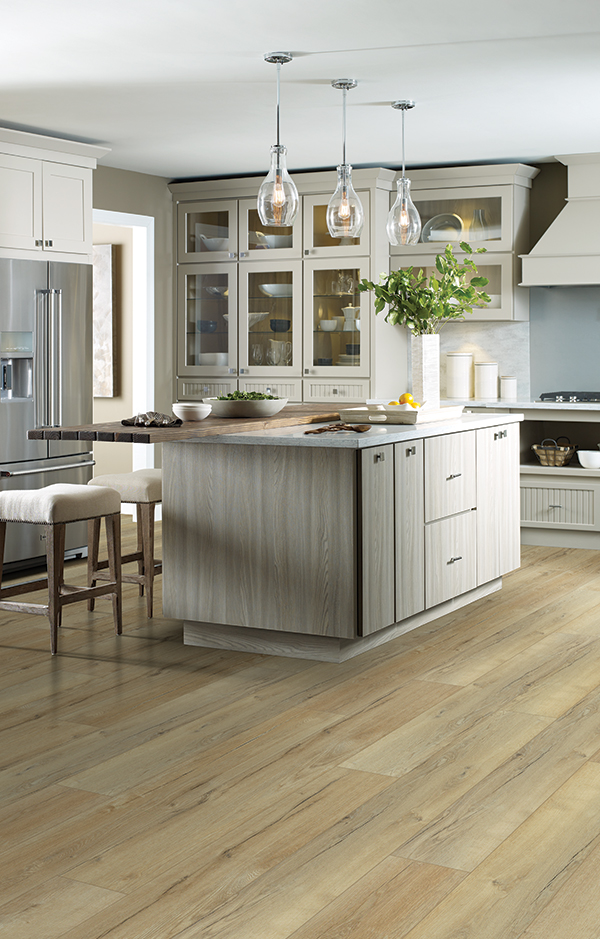 Luxury Vinyl Kitchen Flooring Ideas
The vinyl floors of today are not the same as your Grandmother's kitchen, they are incredible. While sheet vinyl and vinyl tile are still great options for resilient, moisture resistant kitchen floors, Luxury Vinyl Tile has been a complete game-changer in terms of fashion and durability. Today's LVT planks are available in the hottest plank sizes and have more realistic texture than ever. On the performance side, you can select LVT with maximum water resistance like Invincible™ H2O™ Luxury Vinyl or supreme durability like Invincible XT™ Luxury Vinyl Solidcore. With LVT, you can capture a wood or stone visual in a surface that is more budget-friendly and tremendously easy to install. If you have an active home with kids and pets, this quick installation may be a great selling point since it won't limit access to one of the most popular rooms in the home!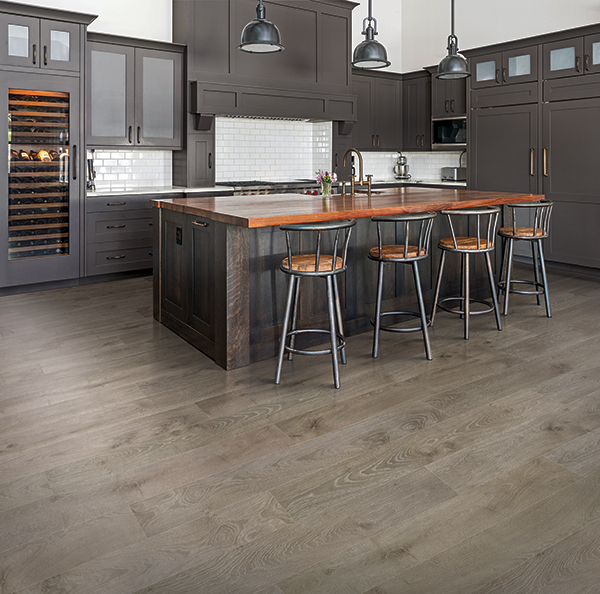 Laminate Kitchen Flooring Ideas
Among all of the flooring ideas that you consider for your kitchen, laminate flooring is a must as well. With a sweet spot between vinyl and natural wood, laminates floors are popular for their enhanced realism, durability, easy maintenance, easy floating installation and decent resistance to water. With a wide variety of styles to choose from, there is a good chance that you will find a laminate product in contention for your kitchen. However, all laminate products are created differently, so look for a product that has higher moisture resistance. Plus, it may be wise to install a thin foam padding underneath to help insulate noise and add comfort. Remember that laminate cannot be refinished like actual wood so choose a product with the longest warranty possible, a 25 year guarantee is preferable. And as we always like to mention, choosing a laminate with the NALFA (North American Laminate Flooring Association) Certification Seal will ensure that the durability you need in your kitchen will be delivered as advertised.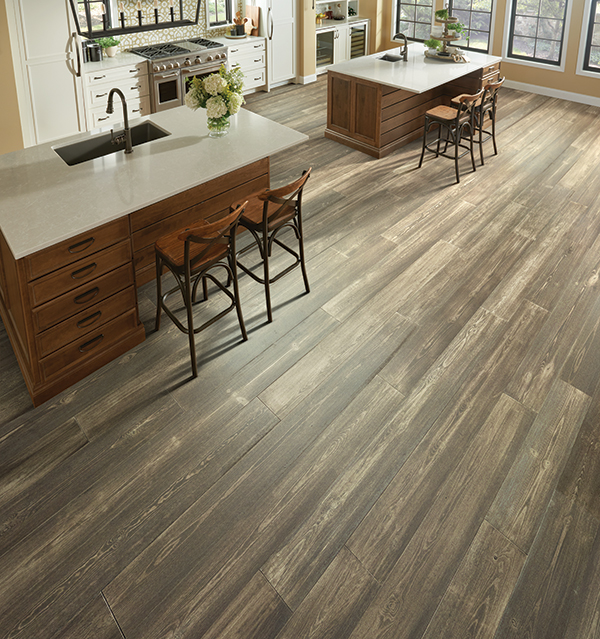 Hardwood Floors in Kitchen
Despite what you may have heard, you can most definitely have a hardwood floor in your kitchen without worry of it being damaged. It's all about picking the wood plank that will fit your home's specific needs the best! When you invest in a product like the Invincible™ Hardwood Collection, it's the type of floor that's designed to withstand years of kitchen use thanks to the Intensity Surface Shield™ engineered with multiple layers of aluminum oxide. If you are worried about the many of spills from kids and knocked over water dishes from pets, Hydrotek™ Waterproof Collection combines the unique character of solid wood with engineered waterproof technology to deliver an unparalleled engineered wood floor that's perfect for your kitchen. Although wood will be a little more expensive and most likely require professional installers, your kitchen will look and perform amazingly while the investment itself can potentially raise the overall value of your home.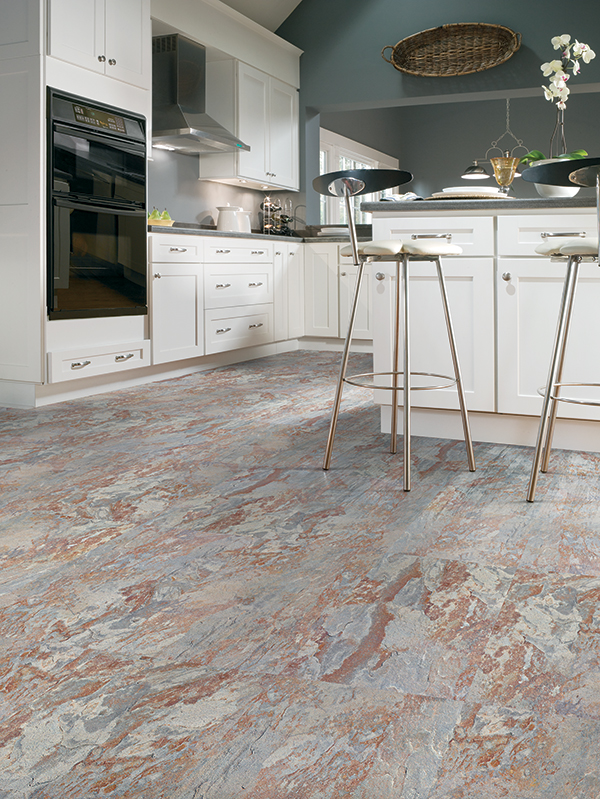 Cork & Bamboo Flooring in Kitchen
When it comes to designing your kitchen, explore all of the options that you have available. If you want an eco-friendly floor made from natural materials, investigate cork flooring and bamboo flooring for fashionable, sustainable styles that will serve your kitchen admirably. The key is matching your needs, desires and your budget in one excellent floor. You can always add an area rug to make any hard surface kitchen floor feel softer underfoot, add pattern and texture, as well as alleviate stress on your back from cooking or washing dishes.
So what are you waiting for? It's time to cook up the kitchen floor that you've always wanted at Carpet One & Home! Contact Us Now to talk to your local flooring expert.